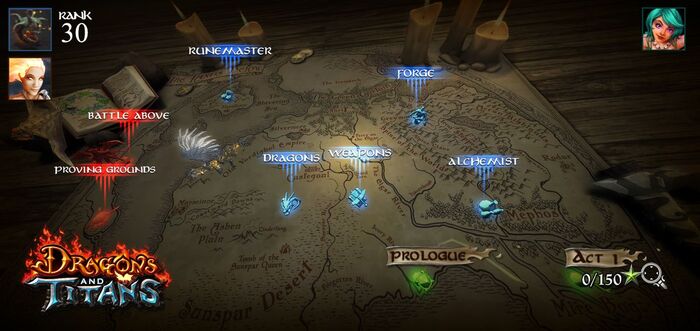 Prologue
A glimpse before Act I, where our Dragon Rider first appears in The Lands Below. In the Prologue, you learn the basic steps on riding your dragon, aiming your weapon, and even saving the villagers!
Proving Grounds
Where you first make your stake as a fledgling Dragon Lord. Here you can complete the Basic Training needed to hold your own in the battles above.
Battle Above
The entry point for all battles in the Eternal Skies. Both Multi-Player and Single Player matches can be found in Battle Above, along with the Team menu and Advanced Training, if you need to brush up on your battle skills.
Dragons
Here you can purchase and learn about all the dragons in Dragons and Titans. You can also find skins for some dragons, to fly around in style!
Weapons
The place to go to find weapons of all kinds, from fiery swords to the newest support weapon, Hyperion's Light!
Forge
The gateway to the weapon forge, where you can improve the weapons you already own. You can also purchase Forge Elements and Forge Ingots here.
Runemaster
Holds all things related to Runes. You can edit your runes, combine them into more powerful runes, or purchase more for either Crystals or Dragon Bucks. To view the runes you own, simply click on Runemaster, then click on any Rune slot (empty or not), which brings up a new box listing all of the runes in your inventory. To combine runes, click on the Rune Combiner, then click on the 3 empty rune slots to select the runes to combine.
Alchemist
Holds all of the potions in Dragons and Titans. Restock on Damage Increase, Refill Health, Refill Mana or Cooldown Reset potions, which can be used in Single Player, Co-Op, or Adventure Acts.
Jengu
The Titan of Fortune is located on the right side of the map. Visit Jengu every day to play the daily dice game or to shop for awesome bundles, like Rune Bundles, Forge Element Bundles, additional Rune Pages and more!
Other points
Click on your Avatar in the top left of the screen to bring up your Lord Panel. View your Profile, change your Avatar, and find Recent Matches here.
Astra is located beneath your profile picture. Visit her often as she'll have new missions you can complete to earn tasty rewards!
You can view the Top 100 Leaders by clicking on the Leaders tab, above the game window! It's located directly above your Epic War Marks, near the top center of your screen.
Ad blocker interference detected!
Wikia is a free-to-use site that makes money from advertising. We have a modified experience for viewers using ad blockers

Wikia is not accessible if you've made further modifications. Remove the custom ad blocker rule(s) and the page will load as expected.